An English Biodynamic vineyard in the heart of Wales
I believe is time to give English wine producers more respect and credibility for the enormous work they put in to their wine making.
When I tasted their very first harvest as I was working very close to the vineyard and didn't care much for English wine – but then I thought "Wow these are some incredible quality wines!" so I introduced myself to Richard who took me around the vineyard and winery, sharing with me the great passion and dedication put in by his family.
Great care and attention is paid in applying the Biodynamic preparations to the Vineyard. These are stirred by hand, in rain water and sprayed strictly under the correct conditions. Only with this level of detail and personal involvement can Biodynamic practices allow the vines to find the balance of life forces necessary for healthy growth and quality of production.
A regular spray programme based on Organic and Biodynamic principles is employed. The use of sulphur is kept to a minimum with the addition of wild plant Tisanes made on the Estate. Insecticides, Pesticides and Herbicides are not used at all, with weeds ploughed out from under the vines.
Extensive canopy management is practiced, maximising air flow through the canopy and sun and light exposure to suit the season. This is further assisted by the Geneva Double Curtain trellising system designed for cooler climates.
A programme of cultivation provides the soil with aeration necessary for the development of a healthy micro-organism population, negating the need for petro-chemical fertilisers. Co-plantation and the promotion of wild flora and fauna help maintain the balance of the eco-system and soils at the Estate.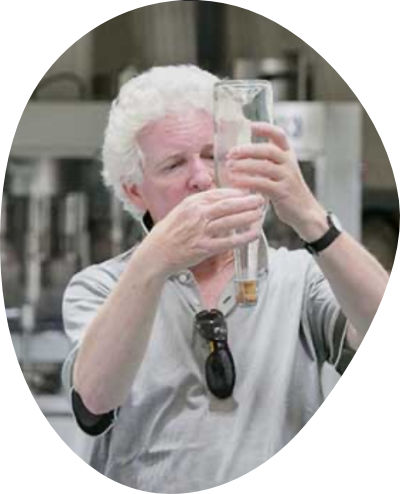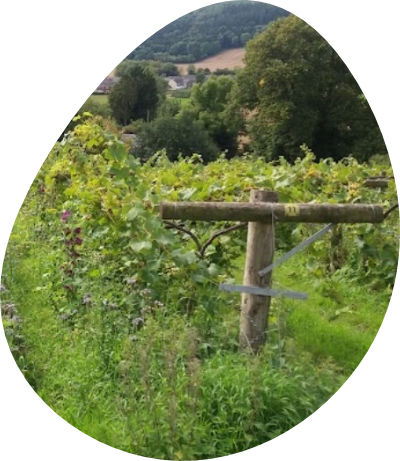 The Winery
The great philosophy doesn't stop in the vineyard – it is followed up in the winery building, which is considered an extension of the vineyard. Natural materials have been used over synthetic ones wherever possible. The walls are constructed from straw bales and the roof is a living, green roof, which provides both temperature and humidity regulation.
Waste water is treated by a series of ecological pools and plantings which also provide many of the plants used in the tisane treatments in the vineyard.
The most important and interesting part of Ancre Hill Estate is that their style of wine continues to evolve, with small batch fermentations occurring almost entirely in oak barrels and concrete eggs.
Fermentations are solely carried out by wild yeasts and bacteria with the avoidance of filtration and fining for the finished wines wherever possible.